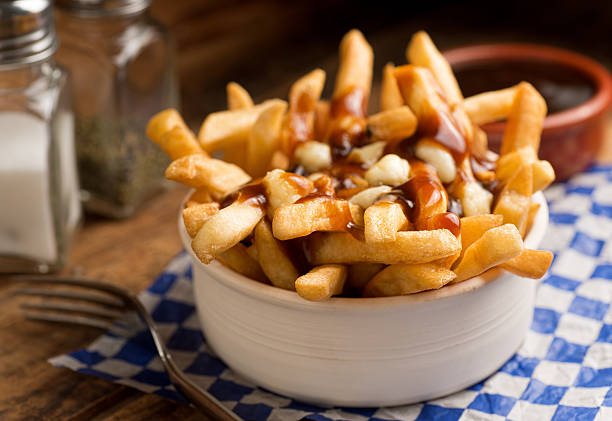 There are certain things that Canada does better than any other country in the world. If you really want to get the true Canadian experience you should try eating your way through this list. (Caution, your waistline might not approve)
1) Tim Hortons, Nothing is more Canadian than a pit stop at the local Timmy's. Although it was recently bought out by an American company, it started out as Canadian business. It holds a special place in Canadians hearts. Get your morning coffee here; the classic double double and shovel some of those Timbits down.
https://www.timhortons.com/
2) Beavertails – A Canadian dessert. It's float fried dough, which is healthier than deep fried. Get the classic killaoloe sunrise or any other one of the options, which again might not be the healthiest but hey "treat yo self"
check outthe beavertails home page here:
3) Poutine– You will find this classic Canadian dish at a bunch of restaurants and fast food chains. Each will try to put their own twist to it. Who can resist fries, gravy and cheese curds? Check out this link to find the top places in Toronto for Poutine
http://www.tastetoronto.ca/the-15-best-poutines-in-toronto
4) KD – Kraft dinner, almost every Canadian kid will remember having a nice bowl of kd for dinner. The powdery cheese and the pasta stirred together to make for a nice meal, served piping hot
5) Butter tarts – A Canadian desert, these are basically mini pies with a gooey buttery sugar filling. You haven't lived until you have tried a butter tart. Check out this link to find the best places to try Butter tarts in Toronto
https://www.blogto.com/toronto/the_best_butter_tarts_in_toronto/
6) Nanaimo bars – Surprisingly a Canadian dessert. It's a bar with three layers; A coconut wafer at the bottom, Custard in the middle and chocolate at the very top. Honestly this is just plain sinful (in a good way ) to eat
Get the recipe here
https://www.nanaimo.ca/about-nanaimo/nanaimo-bars
7) Hawaiian pizza– This was created in Canada and is hot debate topic around the world. The idea of pineapple on pizza has divided many people. Some peoples strongly believe that pineapple should not go on top of pizza, whilst others – like me, believe the complete opposite. It combines both sweet and savory in one bite. Personally, I think it's a true masterpiece.
Check out this buzzfeed video https://www.youtube.com/watch?v=l6LeEFh4YWc
8) Coffee Crisps – Only found in Canada. It's ten times better than a kit kat. Basically it's a chocolate wafer with a hint of coffee flavoring. It's sweet and makes for the perfect sugary snack on the go. You can get these at your local convenience store.
9) Pure Maple syrup– Canada is responsible for 70% of all the maple syrup in the world. Nothing beats the taste of pure maple syrup- you can find these at your local grocery store, or if you are feeling more adventurous- go to a maple farm. Once you have tried this, I guarantee you will not go back to all those processed junk syrups out there.
check out these cool facts about maple syrup
Facebook: https://www.facebook.com/canpacific
LinkedIn: https://www.linkedin.com/company/2923770/
Instagram: https://www.instagram.com/canpacific/
Youtube: https://www.youtube.com/channel/UCzHi6Jd15XOCu-mn_F8-QwQ
Special promotion: http://www.canpacificcollege.com/lead.php
Picture  link
https://www.google.ca/url?sa=i&source=images&cd=&ved=2ahUKEwjR7bfS987cAhVh7IMKHRMwBpQQjhx6BAgBEAM&url=https%3A%2F%2Fwww.istockphoto.com%2Fphotos%2Fpoutine&psig=AOvVaw3FkkCqgkYuMvNp-ExOEEhu&ust=1533318753669401